Iran is awfully far from Rapid City, but this one still resonates...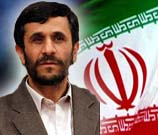 At his news conference, Ahmadinejad made light of restrictions on the press and media.

"Don't worry about freedom in Iran," he said. "Newspapers come and go and reappear. Don't worry about it."
Iran curbs media after disputed election
, MSNBC.com
If he just wasn't
so darn cute.